We've set out to prove that granola deserves to be more than just sugar and oats.
What started as a granola recipe created to meet a client's prenatal needs quickly turned into a savory-sweet mix the whole family (and neighborhood) was craving. With a growing collection of inspired flavors made from nourishing, nutrient-dense seeds, spices, and nuts, Sweet Deliverance is turning breakfast into an all-day affair.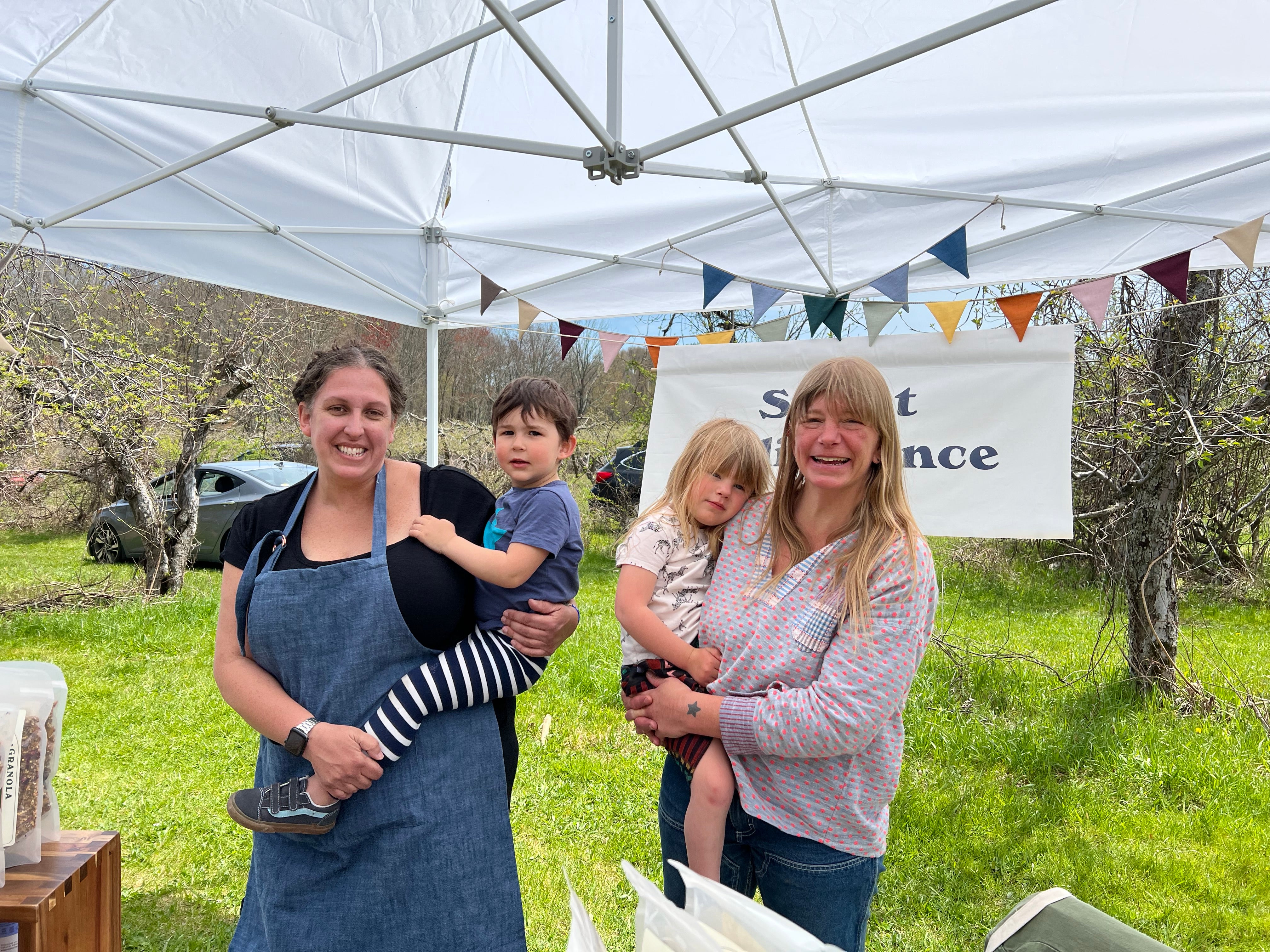 Our Team
Kelly Geary, Founder
Born out of chef and postpartum doula Kelly Geary's decades of experience in the food industry, Sweet Deliverance combines her passion for sourcing the best in gredients from local farmers with the desire to build real relationships with the people she's cooking for.

Working alongside a team of food industry veterans, Kelly is building a collection of pantry staples that provide essential nourishment from sunup to sundown.
Nena Johnson, Founding Partner/COO
Nena Johnson has worked in the good food and farm movement since 2004, from running programming at Stone Barns Center for Food and Agriculture to overseeing the Texas Farmers' Market and managing her family dairy farm in Ecuador. As founding partner and COO of Sweet Deliverance, she's bringing her decades of experience to your home kitchen.
Our mission is simple: to turn breakfast into an all-day affair by creating a collection of delicious, surprising, and inspired foods you'll crave all day.
Our values:
Respect
We honor the humanness in everyone and understand the value in protecting the world around us.
Balance
We strive for balance both in the products we create and how we create them. We use whole, organic ingredients wherever we can and have built a workplace that fosters equilibrium.
Empathy
We believe both work and food are emotional. We are committed to developing supportive frameworks that bring more happiness to our staff and community.
Integrity
We approach every decision and product we make with the same level of care, honesty, and authenticity.
Our vision: Build a balanced world in which nutrition, integrity, and compassion are part of the every day for everyone.
FAQs
We're all ears. Send us an email at info@sweetdeliveranceny.com and someone from our team will get back to you.
Do you use organic ingredients?
Yes! We use organic ingredients in all of our granola recipes.
Why not? We're all about delivering the most nutritious (and delicious) blend of ingredients, and for us that starts with seeds. With high levels of antioxidants, proteins, and fiber, plus hard to beat flavor, they check a lot of boxes for us. And while we get that it wouldn't be granola without some oats in the mix, we use less to really let our seeds shine.
When does the granola expire?
We recommend enjoying our granola within six months of purchase.
How should I store my granola?
Keep your granola in a cool, dry place, like your pantry cupboard.
We currently ship our granola to all 50 states and Puerto Rico via USPS Priority Mail. We unfortunately do not ship to PO Boxes. For the latest updates on where we ship, follow us on Instagram.
Orders ship every Tuesday via USPS Priority Mail. If you require express shipping, please reach out to sales@sweetdeliveranceny.com before you place your order and we'll see what we can do!
Can I place a bulk order?
Yes! Send an email to sales@sweetdeliveranceny.com and we'll make it happen. 
Can I send an order as a gift?
Yes you can (and we hope you will)! You can add a complimentary gift note to your order at checkout.
How can I order your granola for my store?
We'd love to see Sweet Deliverance on your shelves! Visit our page on Faire for wholesale orders!
Where can I find your granolas?
Want to learn more?
Get in touch at info@sweetdeliveranceny.com